We Won't Be Bullied by Unions or Any Other Anti-Choice Critics
You know, I find it real interesting that teachers are supposed to promote anti-bullying in schools but their unions constantly use bullying tactics to intimidate people who support school choice.
It happened in Chicago when the Chicago Teachers Union was trying to muscle the CEO of Civitas Education Partners, LeeAndra Khan, into a contract by striking a few weeks ago.
Sad to see CTU & @ChiACTS educators disrespect school leaders @leeandrakhan like this. Thought unions were progressive & had respect for people. @civitasschools teachers, you ok with this? Modeling what bullying looks like for your students. #MoneyforTeachersFirst #ChiACTStrike pic.twitter.com/sczwi7IaJs

— allison jack (@applejack32) February 13, 2019
Now it's happening during the Oakland teachers strike.
Let's be fair, Oakland teachers get paid way too little considering they live in one of the most expensive areas in the country. But the situation in Oakland has escalated to an outrageous level. I mean, these activists are real life gangsta. Showing up at a local charter school leaders' house and harassing them? Wow!
Here is the statement from the National Parent Council & national ed activists about the attack on @jonathanklein42 and @GOPublicSchools. Bullying, violence and intimidation is happening across the nation and MUST STOP NOW. @The74 @edu_post #educhat @arneduncan @JohnBKing pic.twitter.com/OFrZ6yV2nK

— Keri Rodrigues (@radiokeri) February 23, 2019
Then, school board meetings are being cancelled because the safety of school board members is in question.
Peace. Folks. Well they cancelled the meeting. Couldn't ensure our safety. I was grateful for the Brothas from Church that were ready to walk with me! I was prayed up. Ready to go into battle. Just do the work! Appreciate y'all! Tomorrow…#wecanteachourown #howareoaklandchildren

— jumoke hinton (@jumokehinton3) February 28, 2019
And to top it off, every day this strike goes on, it's costing millions of dollars that could actually be puts towards education.
As if all that isn't enough to be pissed about, they always want to throw the term "privatized education" around to convince people that reformers are trying to tear down the public education system. They even called OUSD school board member, parent and activist, Jumoke Hinton Hodge, a privatizer.
Look at how they smear our people simply for speaking up for our students and families.

This is why we fight. The devil is busy.@RealTalkGwenS @PeeplesChoice85 @nvlevy @MNTOY2006 @LatashaGandy @educatorbarnes @sowhesed @vesiawils @vivettdukes pic.twitter.com/EpYL1boHk0

— Citizen Stewart (@citizenstewart) February 27, 2019
Well let's talk about who's benefiting and who's suffering from a true privatized education.
First of all, how dare anyone accuse a Black or Latino parent of pushing an agenda of privatized education when our kids have been systematically legislated and zoned out of access to decent public schools for generations.
The fact that schools in predominantly White districts get 23 billion dollars more than those that serve students of color is exclusionary and points to inequitable funding practices that disproportionately affect those students.
By the way, shoutout to intentional and longstanding segregation that's kept Black and Latino kids from getting into those better funded schools.
Also, schools that are predominantly White tend to have more challenging classes and coursework while Black and Latino schools have less high-rigor coursework. TNTP's Opportunity Myth report proves that these students often receive coursework below their grade levels because their teachers don't believe they can do grade level work.
It's called the belief gap.
TNTP's Opportunity Myth report laid it plain: students in low-income communities get half as much grade level work & 1/5 less time with rigorous instruction. Let's start talking about EXPLICIT bias. https://t.co/xMsQRr3xmn @TNTP @DanWeisbergTNTP #TheOpportunityMyth #8blackhands

— Colin Seale (@ColinESeale) January 31, 2019
Don't even get me started on racially charged and biased discipline practices that send Black boys down the school-to-prison pipeline while White boys follow the school-to-politics pipeline.
Bottom line, White kids get to enjoy certain privileges, advantages and access in public education while Black and Latino students are knocking on closed doors, jumping through hoops and over hurdles to reap half those benefits.
So don't tell me that choice advocates shouldn't fight for something better because this current system, fundamentally, is a privatized education.
And that's why I am entirely grateful for others who fight, day in and day out, for quality and equity for Black and Latino kids, despite heavy opposition.
School board members, like Director Hodge, who remain unbiased and truly work for students and families.
Organizations and groups like La Comadre and the men of 8 Black Hands who are keeping it real on the education front.
We appreciate that and hope others follow your lead. Thank you for all you do in education. https://t.co/Crbt6BfA1Z

— The 8 Black Hands Podcast (@8BlackHands1) February 11, 2019
School leaders like Sharif El-Mekki and Christopher Goins who incorporate their experiences as Black men and expertise as educators to deliver culturally relevant and important curricula to their students that tackle issues in social justice.
And parents like Gwen Samuel who will stop at nothing—even suing her state—to make sure all our babies get fair and equal treatment.
🤔 "Imagine for a moment a Black mother attempting to enroll her son in a local, high-performing magnet school with open spots, only to be wait-listed and denied one of the open seats due to the fact that they were reserved for white students. https://t.co/mA2TExc3bW

— Yep! I'm "That" Mom (@RealTalkGwenS) February 25, 2019
So y'all can stop calling us privatizers—we're advocates for access, school choice and reform.
And I'll say this again for the people who may have missed it the first time: We're fighting for liberation and we won't back down. We can't be swayed or distracted by education politics, we won't be bullied by unions or any other anti-choice proxies. We're not giving up on our kids or communities.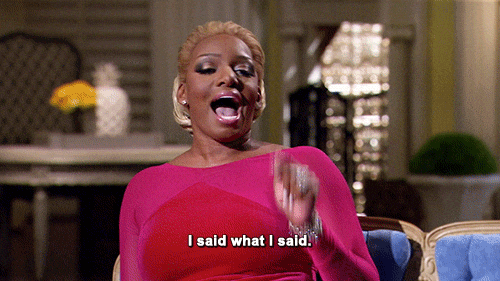 Share This HOPE + OUTRAGE
I want to start a movement where people of color feel compelled and empowered to advocate for better education, so every week I'm sharing some HOPE and OUTRAGE right here. But I'm not writing this to be famous, I'm doing this because our youth need all of us in this fight.
SO SHARE IT OUT RIGHT NOW →